Inland Empire Magazine
April 2019 Issue
It was such an honor when Inland Empire Magazine contacted me wanting to do a feature on my work and career. Living in the Inland Empire for the last several years I feel this has become my home, so being able to connect with this community through this wonderful resource was especially a treat! The Inland Empire magazine highlights and celebrates artful living in this region and is one of the best resources to better understand the culture and lifestyle of some of Southern California's most praise worthy individuals! Thank you again!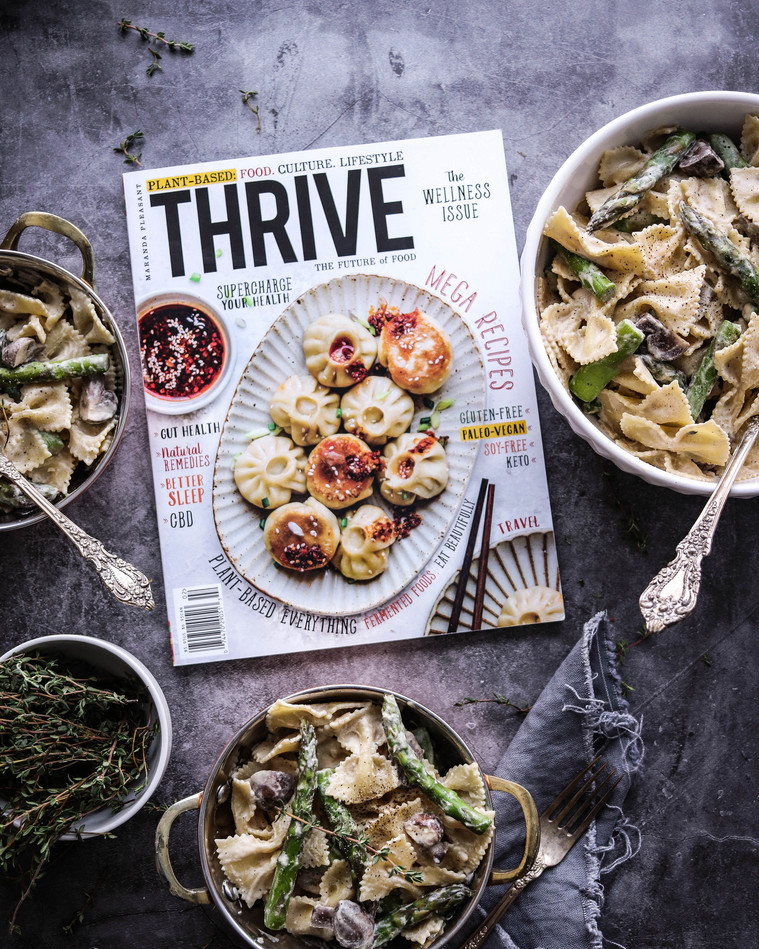 Thrive Magazine - Volume 20
Hey everyone! So excited to announce that I've been featured again in the incredible @thrivemags magazine! It's volume number 20 and is currently available on all stands nation wide! Thrive is the #1vegan/plant-based magazine in the US! And I might add, one of the most beautiful clean eating food and lifestyle magazines I have come across. It's such an honor to be a part of their ever growing culture and to connect with so many incredibly talented and gifted lifestyle and wellness experts. You can find Thrive Magazine at your local @Walmart, @Clarksnutrition, @Mothersmarket, @Target, @Wholefoods, @Sprouts and many others. Check out their website for more information. ⠀⠀⠀⠀⠀⠀⠀⠀⠀
.⠀⠀⠀⠀⠀⠀⠀⠀⠀
.⠀⠀⠀⠀⠀⠀⠀⠀⠀
.⠀⠀⠀⠀⠀⠀⠀⠀⠀
Paired the cover here with my creamy asparagus and cremini mushroom pasta, made with a delicious cashew sauce. ⠀⠀
.⠀⠀⠀⠀⠀⠀⠀⠀⠀
.⠀⠀⠀⠀⠀⠀⠀⠀⠀
. ⠀⠀⠀⠀⠀⠀⠀⠀⠀
Delighted to be sharing this issue with @healthyfrenchwife, @mealsbymiri, @nm_meiyee (who's work is on this cover here!), @groundleaf and several others! So inspired by each of you! Thank you for the incredible work you put out!
TheEarthyCanvas Featured in:
Mantra Wellness Magazine
Mantra Wellness Magazine
I'm so so so excited to announce that I'm currently featured with a 5-page spread in the latest issue of @mantramagazine 😍, available nationally. Just received my copy in the mail yesterday! I feel honored and grateful for the opportunity to share more about myself, my journey to wholeness, and some of my favorite plant based recipes in this issue. I absolutely love Mantra Magazine's mission to highlight areas on vibrant living, clean eating, and optimal health. Their content is as beautiful as it is meaningful. I paired their 🌵lovely latest issue here with my favorite homemade granola cereal, fresh berries, and, of course, my nerdy glasses🤓. Feel free to check out a copy! You can find prints at Wholefoods, Sprouts, Costco, Walmart, Kroger, Safeway, Mother's, Clark's, Barnes and Noble and many more! Thank you Mantra Wellness Magazine!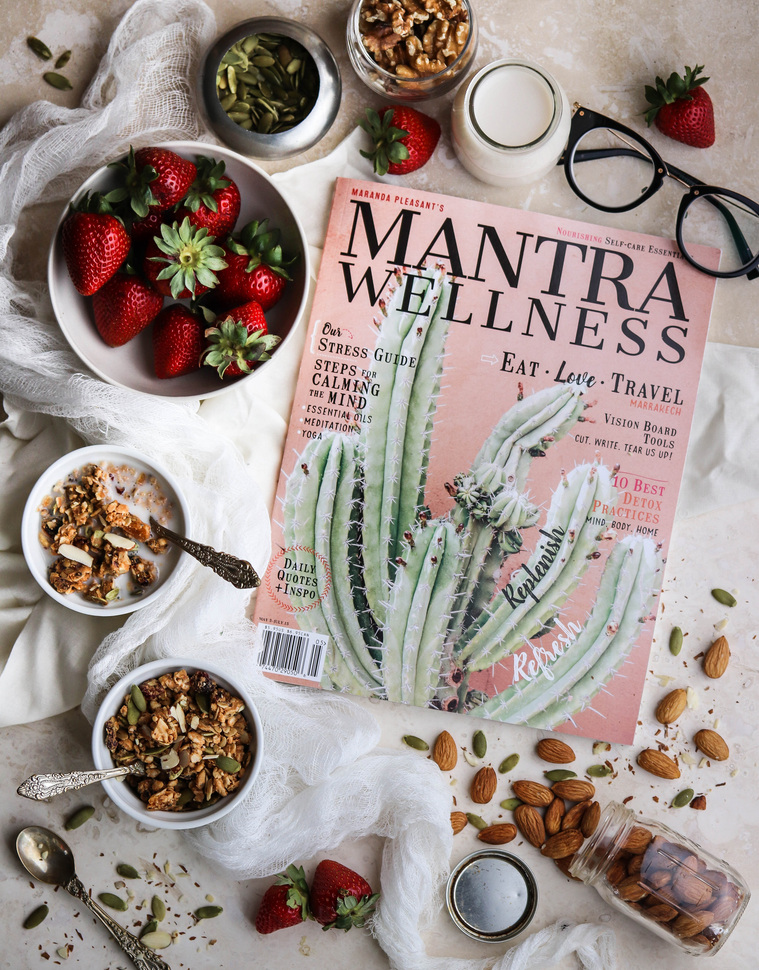 TheEarthyCanvas Featured in:
Thrive Magazine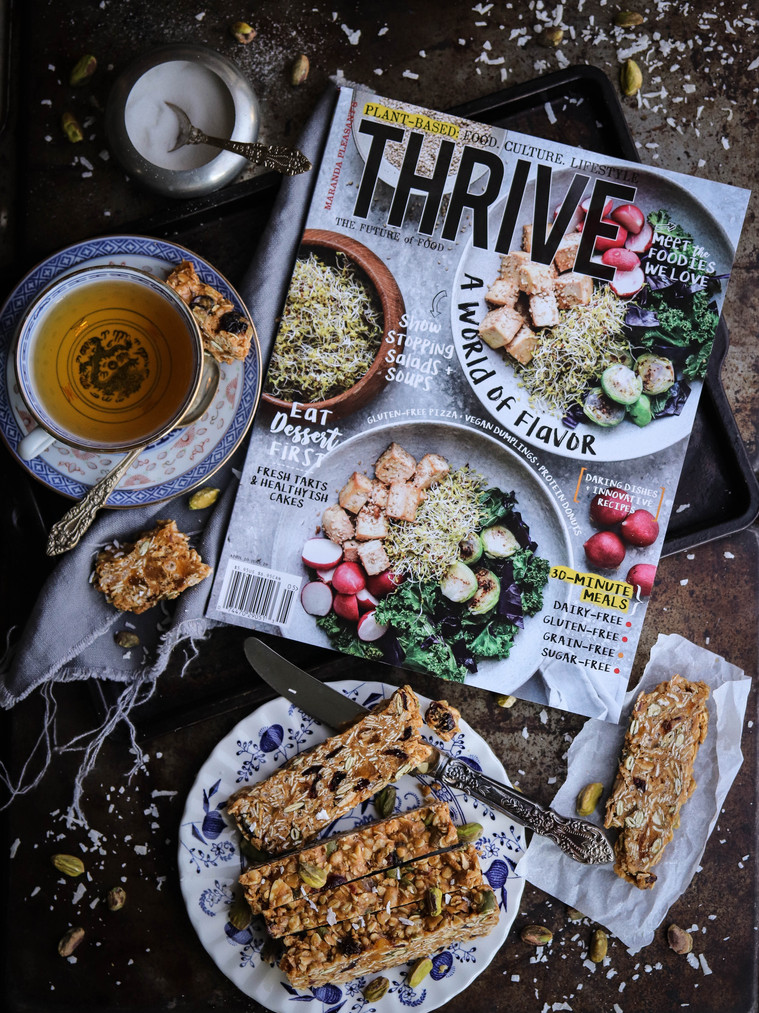 Thrive Magazine
So excited to announce I'm featured in the latest issue of @thrivemags, America's #1 plant based magazine!
😍😍😍

I was stoked to receive two copies in the mail a few days ago! It's super fun to see your work and photography in a national magazine🙈. Grateful for the opportunity and loved the spread they did for me😍💕! On the cover are some beautifully prepared crispy tofu bowls by @the_balanced_kitchen, just loved her work. These are my nut based energy bars I made with a cup of saffron tea. Such a great nutrient and antioxidant dense mid-morning snack!
You can find Thrive magazine at Barnes and Nobles, Wholefoods, Target, Walmart, Vons, Mother's Market, Sprouts and a bunch of other stores!
Thank you again to Thrive for the lovely feature!
TheEarthyCanvas featured in:
Thrive Magazine Holiday Issue 2018
Thrive's Holiday Issue!
So excited to again be featured in Thrive Magazine this year in their Holiday issue! What a treat! Their holiday issue this year featured some of the best chefs and food photographers in the plant based industry and I feel so honored to have been selected to be among them. Thrive is the #1 Vegan magazine nationally and focuses on wholeness, and wellbeing with an emphasis on plant based eating and mindfulness. Hope you guys get a chance to check it out!
Fay